Wireless Alarms
Our wireless intruder alarms are suitable for both residential and commercial premises. With so many wireless systems available in the current environment, why would you choose J&L?
Our wireless systems are perfect to install when time is of the essence. If your business operates 7 days a week, why would you close the business to install a security system? With a wireless intruder alarm system areas of high foot fall can be covered before the business opens and the remaining areas covered during the rest of the day.
After completing a security survey and discussing your requirements, our experienced engineers can advise if the wireless option is for you.
How does the wireless system work?
The wireless intruder system which we supply and fit is a complete two way wireless control panel. Each device of the system acts as a transmitter and receiver offering the installer a status reading at both the control panel and device. This assists the installer in determining the best location to install the device taking into consideration the strength of the signal from the control panel.
This two way system allows the system to effectively 'wake up' and 'sleep' giving you the peace of mind that the device will conserve battery power. Therefore the wireless motion detector remains inactive (asleep) during the period which the intruder alarm is unset. Once the intruder alarm has been set, the motion detector will wake up instantly guarding your property.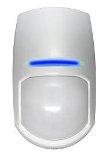 The motion detectors we supply and fit include:
· 10m pet friendly motion detectors
· 12m digital motion detectors
· 25m long range motion detectors
Additional items which we offer as two way accessories for our wireless intruder alarms include:

· Magnetic door contacts (available in white, brown & grey)
· Shock detector (available in white & brown)
· Smoke detector
· Water leak detector
· Wireless external sounder proximity key tag
· Wireless key fobs
· Proximity key tags
· Mobile App Connectivity
· ARC (Alarm Receiving Centre) Monitoring
With our system, you are able to add up to 66 zones. This means that if you ever want to expand on the number of areas you are covering in your property, this can be done without having to insert a new control panel (apart from the additional devices you may require).
There are three methods which can alert you to an intrusion at your premises which include:
· Mobile App – Push Notification – Deal with the activation on the go
· GPRS Connection through a dedicated roaming SIM CARD
· Alarm Receiving Central (ARC) Monitoring Station – UK 24Hour Manned monitoring station
The wireless system can enable configuration for up to 4 different arming scenarios as follows:
1. A – All devices (day set)
2. B – Just the ground floor (night set)
3. C – Front & garden door
4. D – All doors & windows (perimeter security)

There are 3 different methods in which the alarm can be set/unset which includes:
· Four/Five Digit PIN Code
· Wireless Key Fob (also incorporates a panic button)
As the dimensions of the control panel are 208mm by 148mm, it allows the option for it to be fitted in tight locations or in a hallway which is not enclosed for the consumer unit.
Depending on your property and requirements, there is an option to either have 2 wireless external sounders or have 1 hardwired external sounder and 1 wireless external sounder.
We are confident a wireless system will meet your requirements – call us for more information.

Wireless Alarms London | Wireless Alarms Ilford | Wireless Alarms Seven Kings | Wireless Alarms Barking & Dagenham | Wireless Alarms Havering | Wireless Alarms Redbridge | Wireless Alarms Newham | Wireless Alarms Waltham Forest | Wireless Alarms Hackney | Wireless Alarms Islington | Wireless Alarms Camden | Wireless Alarms Haringey | Wireless Alarms Enfield | Wireless Alarms Barnet | Wireless Alarms Harrow | Wireless Alarms Brent | Wireless Alarms Westminster | Wireless Alarms Kensington & Chelsea | Wireless Alarms Hammersmith & Fulham | Wireless Alarms Ealing | Wireless Alarms Hounslow | Wireless Alarms Hillingdon | Wireless Alarms Kingston | Wireless Alarms Richmond | Wireless Alarms Wandsworth | Wireless Alarms Lambeth | Wireless Alarms Merton | Wireless Alarms Sutton | Wireless Alarms Croydon | Wireless Alarms Bromley | Wireless Alarms Bexley | Wireless Alarms Greenwich | Wireless Alarms Central London | Wireless Alarms East London | Wireless Alarms North London | Wireless Alarms Goodmayes | Wireless Alarms Wanstead | Wireless Alarms Loughton | Wireless Alarms Chigwell | Wireless Alarms Woodford | Wireless Alarms Woodford Green | Wireless Alarms Leyton | Wireless Alarms Leytonstone | Wireless Alarms Buckhurst Hill | Wireless Alarms Epping | Wireless Alarms Romford | Wireless Alarms Hornchurch | Wireless Alarms Emerson Park | Wireless Alarms Ruislip | Wireless Alarms Iver | Wireless Alarms Slough